Dear Donor,
Thank you for making an online donation. Please click the above "Donate Now Button"  and follow the given instructions to make your contribution.
Please UN-CHECK 
 Paying for goods or a service?
Tick this box and your eligible purchases are covered by PayPal Purchase Protection (SAMPLE GIVEN TO RIGHT).
If you face any problem in processing PayPal payment, please call or WhatsApp.
You can also use this PayPal for payment via credit card
Please note that your payments will be processed through KITCC Foundation (USA).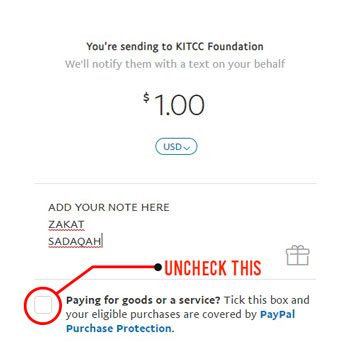 Best Regards,
BILAL MULLA, GENERAL SECRETARY
Kashif Iqbal Thallasemia Care Centre (Trust) (Pakistan)
KITCC Foundation (USA)